The veggie patches
The veggie patches are custom built out of coreten steel, and have spectacular growing trellises, that were built by Damian, AKA the Tin-Man, a local steel artist. The soil profile was designed to allow the perfect balance between drainage and moisture retention.
In between the garden beds, natural stone paving with a variety of creeping plants provide a playful, cool and permeable surface to walk on. Surrounding the area where the patches are located in the front garden, perennial flower beds and small fruit trees provide habitat, and well as extra space for veggies and the more invasive plants, like pumpkins, sunflowers and potatoes.
The vertical space that the trellises and 600 mm of height the side of the veggie patches offer, almost doubles the growing space that the veggies can enjoy. In truth, these less than 10 square meters of space that the patches occupy, provide most of the veggies this family needs, all of it during the busiest times of year.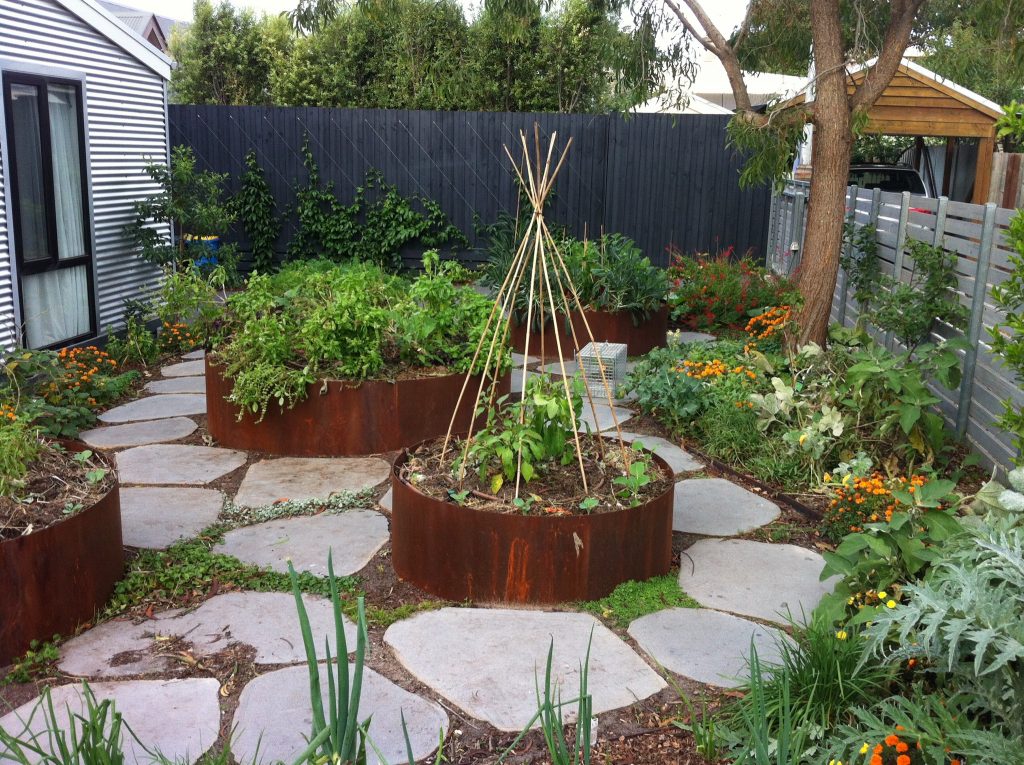 Habitat, pests and sustainability
The whole family enjoys nature enormously, and as such, we took great care to provide nectar and habitat to the winged inhabitants of the garden. Flowers for the insects, dense foliage for the small birds, thick mulch for the soil life, and a wide variety of plants to encourage a wide variety of visitors.
Two dwarf flowering gums provide a spectacular display of blossom, the hedge of lemon myrtle is a perfect nesting habitat and of course, even though the fruit trees are netted, they do feed a few animals. All those flowering plants also contribute to the honey harvest.
A small solar powered low voltage electric fence is used at night, in a few judiciously chosen areas, to keep the possums away from the fruiting trees. Possums tend to invade gardens from one of two access points, and blocking those off can be easy an incredibly effective. I am a huge fan of this system, and have been recommending it to clients on my designs and installing it ever since.
Water wise, the entire garden and lawn is watered with rainwater, 50,000 liters of water is kept under the deck in huge tanks. In winter, when rain supplies the bulk of the watering needs, the rainwater gets used in the house for toilets and showers. Because of the slope of the property, grey water was judged inappropriate. I only install gravity fed grey water system, for a whole litany of reasons that would grant another article all together.
Fruit trees
Over 40 fruit trees are IN FULL PRODUCTION on this urban block, and about as many fruiting shrubs. This means an almost all year round production of varied, nutritious, delicious fruits, that the keen gardeners must make best use of. Luckily, the Curry make the best jams in the known Universe, and what is not consumed fresh is preserved beautifully.
Interestingly, a few trees were planted "two in one hole", so as to increase the variety of fruits and length of harvest. Like multi-grafted trees, this often goes wrong when one side is left to dominate the growing space. So keeping the trees fruiting whilst maintaining appropriate balance, shape and height requires expert pruning, which I take great pride in doing. Quite a few columnar apples and stone fruits were also planted, allowing even more varieties to be sharing a small space. A lot of citrus trees live in pots, and fruit well, and our olive hedge is reaching maturity.
An approximate list the fruit trees would look something like this: 12+ olives of many varieties, 1 loquat, 4 feijoas, 1 quince, 8 lemon myrtle, 6 citrus, 1 apricot, 1 apple, 4 peaches, 4 nectarines, 1 pomegranate, 1 fig, 4 currants, 12 blueberries, 3 grape vines, 3 passion fruit vines… and I forget some.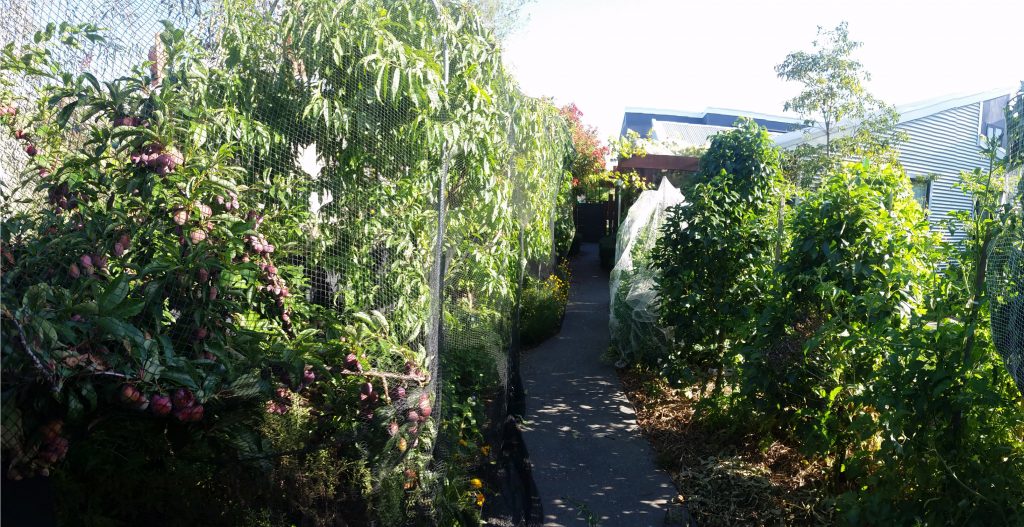 Sensory garden
An exciting element of this design was that the children's bedroom offered a window right into the garden, in one of the areas that receive the least amount of sun. A variety of Mints, shade tolerant Salvias, Daphnes, Gardenias, Day Lillies, Native Violets and native Frangipanis bring in colours, fragrance, birds and colorful insects to this very precious part of the garden.
Many of the Salvias have flowers that can be picked and suckled on, berries and currants, and a constant crop of sugar peas and beans keep the young ones, and the not so young ones, grazing as they wonder around the garden.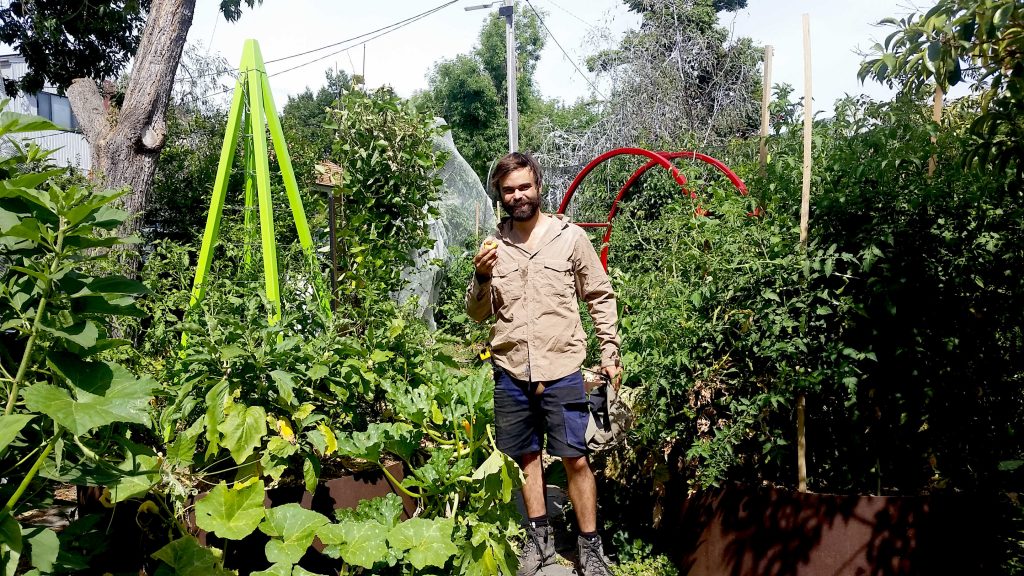 The chickens
A few years ago, I used to be known as "the chicken guy", because of the sumptuous wooden chicken coops I built from recycled timbers. They use to sell at a few shops, including the St Kilda Little veggie Patch shop. In this case, with the design of the chicken living space, we tapped into a fantastic opportunity.
The entire house is built on stilts, including a large deck. This huge space couldn't stay unused, and the chicken yard was designed to provide the feathery tiny dinosaurs with access to this huge space.
Imagine being a chicken, on a hot summer day, with full access to a cool, shady maze of fresh dirt, teaming with critters and the occasional green plant… dreamy.
The "de luxe" chicken house, and the fully fox proof yard attached to it, might look small, but they open up to what I would estimate to be up to 500 square meters of free range fun.
In my opinion, chickens obviously need a very safe space to sleep and live, but to be happy, they really want a lot of potential to forage. It's not about the size of the yard, as much as how much habitat for insects and worms is in that space.
The humans, need easy access to the eggs and the feeding of the birds has to be easy. In this case the coop is contiguous with the deck, which means it's only a few steps away from the kitchen, and it can be accessed without having to get your feet dirty.
The aquaponics system
Aquaponics is a system where wish and plants are grown synergisticaly. The water in which fish are grown, is pumped through grow beds where vegetables benefit from the nutrients, and at the same time, filter the water. This project, was entirely Hamish's idea. In all honesty, even though I love the concept, and have dabbled with it on vertical garden projects, I just could not imagine that with their busy life, these professionals and their three kids could manage such a system. Well, I was wrong. Deliciously wrong.
Granted there has been ups and downs, a few dramas, but the system is running well now, and the fish, once harvested, get smoked in a little smoker and eaten with pride. As I write these lines, the growing bed is overflowing with watercress and leeks, and over the years I have seen it grow a wide variety of plants. One of the reasons this system is a success, as is usually the case, is that it is well located. In this case, the fish are located under the deck, in a very cool position, where they can be fed using a chute, from a point just outside of the kitchen. Easy.
Artworks
One of my favorite aspect of this garden, are the artworks that have been included over the years. The inner courtyard, which can be seen throughout the house, features a modern sculpture. The bees in the front yard are guided in their flight path by a laser cut steel panel that doubles as a climbing trellis for beans and other climbing vegetables. A large mural was also commissioned to a collective of street artists, and a bland brick wall which was left from the shed removal is now busting with colors and beauty.