We offer full landscape design and landscaping for large blocks, but are also happy offering garden design for small spaces. Small front yards and backyards makeovers usually mean we must be maximise the use of vertical spaces to the fullest.
For a sculptural and yet productive effect, the espalier fruit tree is an ancient and yet extremely pertinent option. Espaliered, fanned and dwarf fruit trees in Melbourne are a certain winner.
More than ever, trees grown in such a way can add beauty and a delicious touch in our busy urban centers. They do require a bit more pruning to stay productive though!
Making best use of this small space, raised garden beds and fruit trees coexist in this courtyard garden to provide an all year round bounty.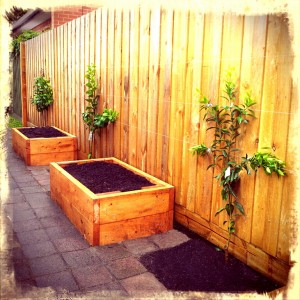 The tree selection will provide a continuous crop as well as a colorful focal point.